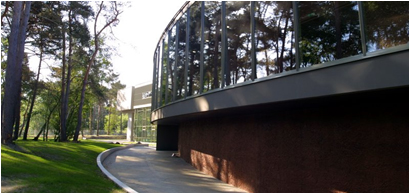 On November 8th, EMCoS together with IRSEEM will be hosting a workshop for EMC and complex harness modeling techniques in Rouen, IRSEEM ESIGELEC Research Institute, and it is a great pleasure for us to invite you to this exceptional event.
We hope you will enjoy a full day meeting packed with information, technical presentations and interesting discussions on modern industrial researches, as well as meet with other industry professionals to learn and share valuable experiences and expand your views in EMC simulation technology.
Main topics of the preliminary program include:
Effective modeling technologies for EMC and complex harness with EMCoS tools
Industrial EMC Simulation presented by guest speakers from leading automotive OEMs
Live demo for simulation of PCB related problems using EMCoS PCB VLab
We are looking forward to seeing you in Rouen soon!

---
Date: Friday, 08. November 2013
Venue: IRSEEM, Technopole du Madrillet, Avenue Galilee – BP 10024 76801 Saint-Etienne-du-Rouvray France hht://www.esigelec.fr
---
Seminar Agenda
| | |
| --- | --- |
| 09:00 – 9:30 | R. Jobava (EMCoS, Georgia), Modeling Technologies for Solution of EMC Problems |
| 09:30 – 10:00 | F. Duval, A. Gheonjian, X. Bunlon (IRSEEM, France, EMCoS, Georgia, RENAULT, France) Investigation of fuel rail pressure sensor system |
| 10:00 – 10:30 | A. Gheonjian, et al. (EMCoS, Georgia, RENAULT, France), Modeling of Powerline Filters |
| 10:30 – 11:00 | X. Bunlon, et al. (RENAULT, France), Automotive EMC simulation : the right model(s) at the right time for the right purpose(s) |
| 11:30 – 12:00 | M. Klingler, et al. (PSA, France), Evaluation of Different Approaches to Model the Connection Between Harnesses and Ungrounded Equipment |
| 12:00 – 13:30 | LUNCH |
| 13:30 – 14:00 | F. Lafon (VALEO, France), simulation / modeling activities / hot topics and concerns |
| 14:00 – 14:30 | H. Tazi (AUDI, Germany), Investigations of Antenna Packaging Based on EM Simulations |
| 14:30 – 15:00 | BREAK |
| 15:30 – 16:15 | E. Yavolovskaya (EMCoS, Georgia), Simulation of PCB related problems using PCB VLab (with life presentation) |