Analysis of RCS Problems in Ship
Introduction
The radar range equation expresses the range at which a target may be detected with a given probability by a radar having a given set of parameters. This equation includes the target radar cross section (RCS), which is a measure of the proportion of the incident energy reflected back to the radar. This returned energy varies with a multitude of parameters such as transmitted wavelength, target geometry, orientation, and reflectivity. The radar cross section of an object is proportional to the far-field ratio of reflected to incident power density, that is:
---
Radar cross section can be efficiently estimated using PO solution (ray-tracing algorithm) in EMC Studio and EMCoS Antenna VLab environment.
---
Simulation Model Description
This application note demonstrates calculation of Radar Cross Section of ship and comparison with analytical solution and RCS typical values.

---
Typical Values of RCS for Ships
RCS of ship depends on overall size and Gross/displacement tonnage of ship. Typical values for ships are known and described below: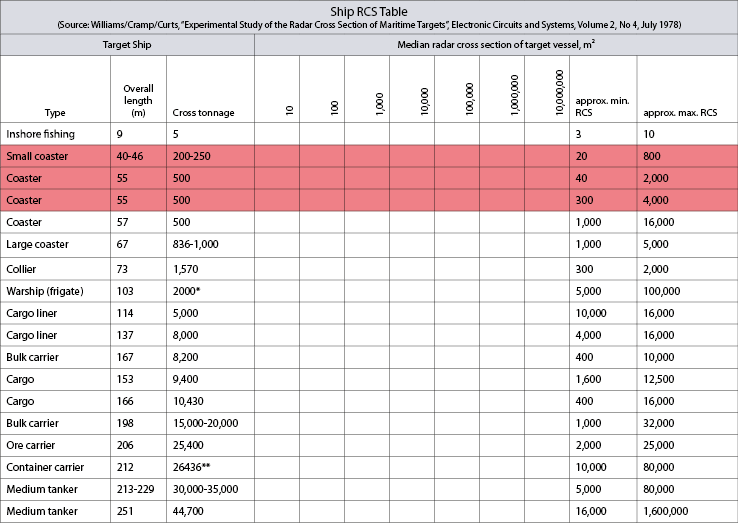 Median values for ship with approximate tonnage from 200-500 t are from 13 dBsm to 36 dBsm (highlighted rows).
---
Analytic Prediction of Radar Cross Section
Results calculated from empirical expression are in very good agreement with measured data. Analytical solution can be efficiently used for validation of simulation results.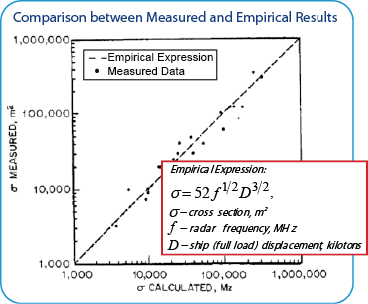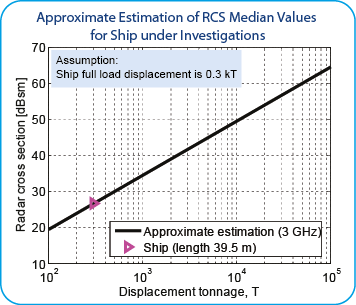 ---
Results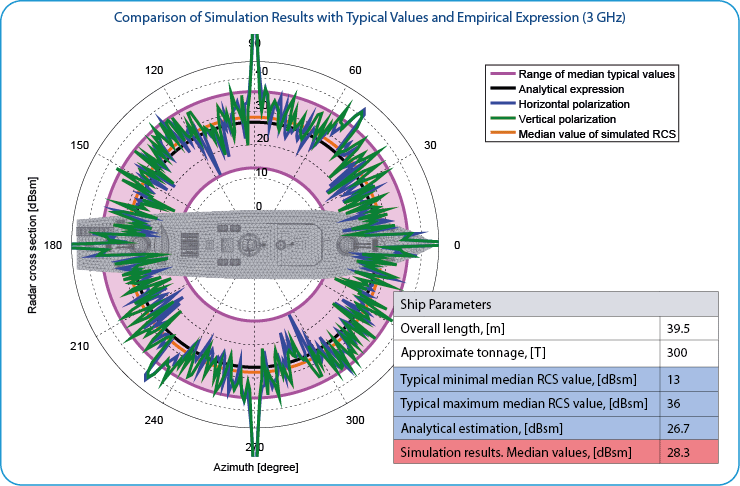 From the obtained results it can be seen that simulation results are in very good agreement with typical RCS values and analytical expression.
---
Conclusions
According to performed investigation the main conclusions are:
EMC Studio and EMCoS Antenna VLab provide the powerful tools for analysis of Radar Cross Section problems in ship
For calculation of radar cross section PO solution (ray-tracing algorithm) is considered
Simulation results were compared with typical RCS values and approximate analytical solution
References
Skolnik in Eustace, H.F. (Ed.). The international Countermeasures Handbook, 3rd ed., pp. 278-279, 1977, 78. Courtesy Cardiff Publ. Co.
Williams/Cramp/Curts, 'Experimental Study of the Radar Cross Section of Maritime Targets', Electronic Circuits and Systems, Volume 2, No 4, July 1978