EMCoS Studio 2022 Release Highlights

---
Major Highlights
New Features in Hybrid MTL/MoM/3D PEEC Solution
Automated Generation of Complex PCB Models with EMCoS PCBNgn
EM Solution – Transient Analysis with STime FV (DGTD) Solver
EM Solution – Characteristic Modes Analysis (CMA) Option in TriD Solver
New Features in Model Handling Operations and System Simulation
EMCoS TIC and ZT3D Solver New Features and Improvements
EMCoS RapidTL Solution for Cables EMF Simulations
EMCoS CM Choke Designer New Features and Improvements
EMCoS SimDAT New Features and Improvements
New Graph Digitizing Tool
---
New Features in Hybrid MTL/MoM/3D PEEC Solution
Improved Hybrid MTL/3D PEEC Solution for PCB with Cables
Cylindrical Scan support in Hybrid MTL/3D PEEC calculations
Near Field Source export for TriD calculations
Renaming of FAS and AGGR solutions for 3D PEEC simulation
Smoothing of Currents and Charges 3D Distribution
BGA files writing speed-up for large output data
Optimizations in TriD solution for models with large number of impresses currents
New Way of PCB Data Processing from 2D PCB Model to 3D PEEC Simulation Model
Automatic conversion of PCB Object contents to EMCoS Studio simulation model
Import of triangulated mesh model (generated by EMCoS PCBNgn) with all material and model entity parameters
Import and conversion of PCB components (based on Component Parts Library or individual models) to EMCoS Studio connectors and circuit elements
Improved Hybrid MTL/MoM Scheme for Radiation with LFMF
Enhanced LFMF solver for solutions of problems related to cable junctions to surfaces
Consideration of impressed currents junction to surface with losses
Support of complex topologies of cables wiring with branches
Improved calculation of radiated by cables electromagnetic fields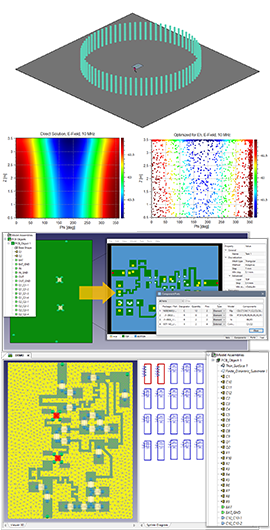 ---
Automated Generation of Complex PCB Models with PCBNgn
New Features in PCB Data Import and Processing
Support of extended PCB feature shapes on ODB++ import
Extension of Component Parts Library with information about related components
Components selection by part number from Parts Library
Possibility to delete part information from Component Parts Library
Nets editing functionality (create and assign net operations)
New Healing Operations (Remove Unconnected Vias and Remove Empty Nets)
Import nets and components configuration file
New tool to measure distance between PCB features
Reset Board Profile operation
New Features in Model Pre-Processing for 3D PEEC Simulations
Advanced ports handling operations (edit port position by exact coordinates, copy ports from one layer to another)
Redesigned Task Settings dialog with support of meshing and vias triangulation settings for active project
Task coupling settings definition from EMCoS PCBNgn environment to handle minimum K, Cij and Rij values
Coupling Sets definition from EMCoS PCBNgn to handle of K and C coupling coefficients between particular PCB parts
Separate Partition Size definition for Coupling Sets
Functional Mode analysis
GUI and Usability Improvements
Support of drag-and-drop for project files and ODB++ data
New option to define temporary directory
Explore project folder command
Support of Undo/Redo operations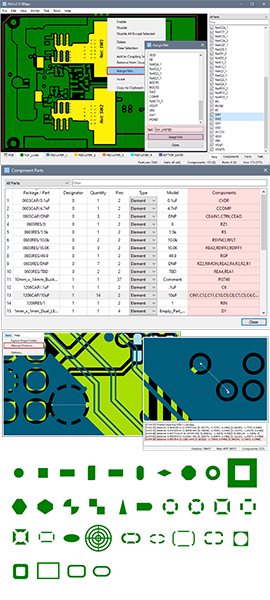 ---
EM Solution – Transient Analysis with STime FV (DGTD) Solver
Support of new Finite Volume Mesh generation library
FV Objects to assemble models for Transient FV simulations
Automatic generation of Surface and Volume Meshes for FV Objects
---
EM Solution – Characteristic Modes Analysis (CMA) Option in TriD Solver
Characteristic Mode Analysis (CMA) is intended to analyze scattering characteristics of the object (usually metallic) by expanding the total current on the structure in terms of characteristic currents, or modes (CMs).
This feature is useful in terms of the designs of reconfigurable antenna systems. Moreover, the use of characteristic modes of an antenna can greatly improve its fundamental parameters, such as efficiency, gain, polarization purity, compactness, as well as provide more flexibility in the design of its excitation schemes.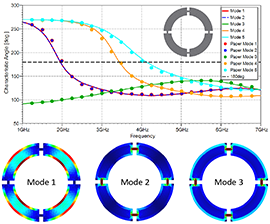 ---
New Features and Improvements in Model Handling
Split View for Viewer 3D and System Diagram windows
Extended Model Assemblies Library with generic 3D models of SMD packages
Automatic placement of SMD packages on PCB footprints
Support of time signal reverse order in Time Signal Editor
Import materials data in Materials Library from external (*.dat or *.csv) files
Improved Model Diagnostics procedure
Optimization of large frequency-dependent files for impressed currents
Optimized Progressive Mesh and Remeshing functions in ReMesh
New Features in System Simulation and Circuit Calculations
New type of connectors visualization (Box/Circuit Element) in System Diagram
New option to update device/connector schemes in System and Task Diagrams
Support of threads number control options and usage statistics in TSReady solver
Support of arbitrary RLC termination devices for BURNS engine in TSReady solver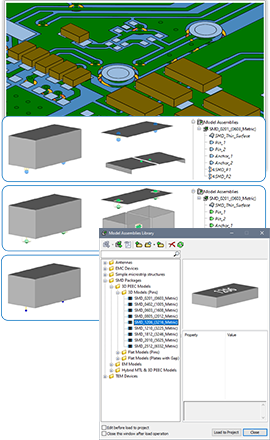 ---
3D Transfer Impedance Simulations of Braided and Multilayered Shield Structures in Virtual Triaxial Setup
Support of foil shields (Wrapped Tapes and Helical Wrap Tapes) with spaced and overlapped wrapping for ZT3D solver
Possibility to consider foil shields (Wrapped Tapes and Helical Wrap Tapes) with spaced and overlapped wrapping in layered shield definition in ZT3D simulations
Support of Materials Library with constant and frequency-dependent material parameters definition
Braided shields modeling with non-regular carriers
Access to Materials Library with wide range of built-in materials
Support of frequency-dependent materials in ZT3D calculation
Number of cross sections field recalculated based on shield and segmentation lengths in case of ZT3D calculation
New option to delete temporary files after calculations
GUI and usability improvements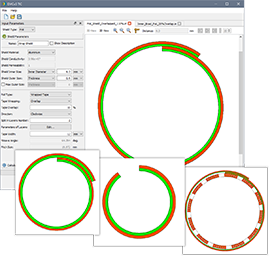 ---
New EMCoS RapidTL Solution for Cables EMF Simulations
RapidRLCG_2D Solver for cables EMF simulations
Calculation of frequency-dependent CG & RL
Calculation of currents, charges, electric & magnetic fields
Calculation of impedances
Calculation of forces & heat
Geometry primitives to model different types of cable shapes (single, coaxial, multi, flat, …)
Boolean and translate operations to model complex 2D structures
Access to Materials Library with wide range of built-in materials
Built-in 2D and 3D results visualization tools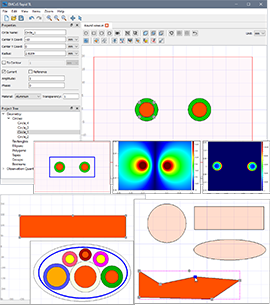 ---
EMCoS CM Choke Designer New Features and Improvements
Adaptive grid visualization in 2D Model View depending on the model zoom level
Improved axes visualization and changed panning method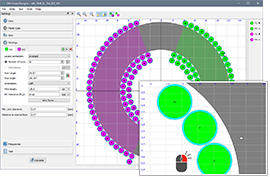 ---
EMCoS SimDAT New Features and Improvements
Support of Coupling Sets visualization for Hybrid MTL/3D PEEC calculations
Support of Frequency Domain Detectors calculation
Support of Rectangular and Polygon selection modes in Viewer 3D
Support of Reversed Visibility mode in Viewer 3D
New animation mode by frequency samples for 3D results
New animation mode by 2D slices for Near Field Grid results
New option to associate image file (*.png, *.jpg, *.bmp, etc.) with a curve
Possibility to copy/paste labels in 2D plots
Improved Merge Curves functionality (keeping gaps between curves, merging with identical expressions, keeping curves order after merging, etc.)
Support of filtering/searching functionality in Tree View
Extension of Create Results Composition procedure on Human Exposure output file
Extension of output reading functions in EMScript for STime, STimeIE and RapidRLCG_2D solvers, performance improvement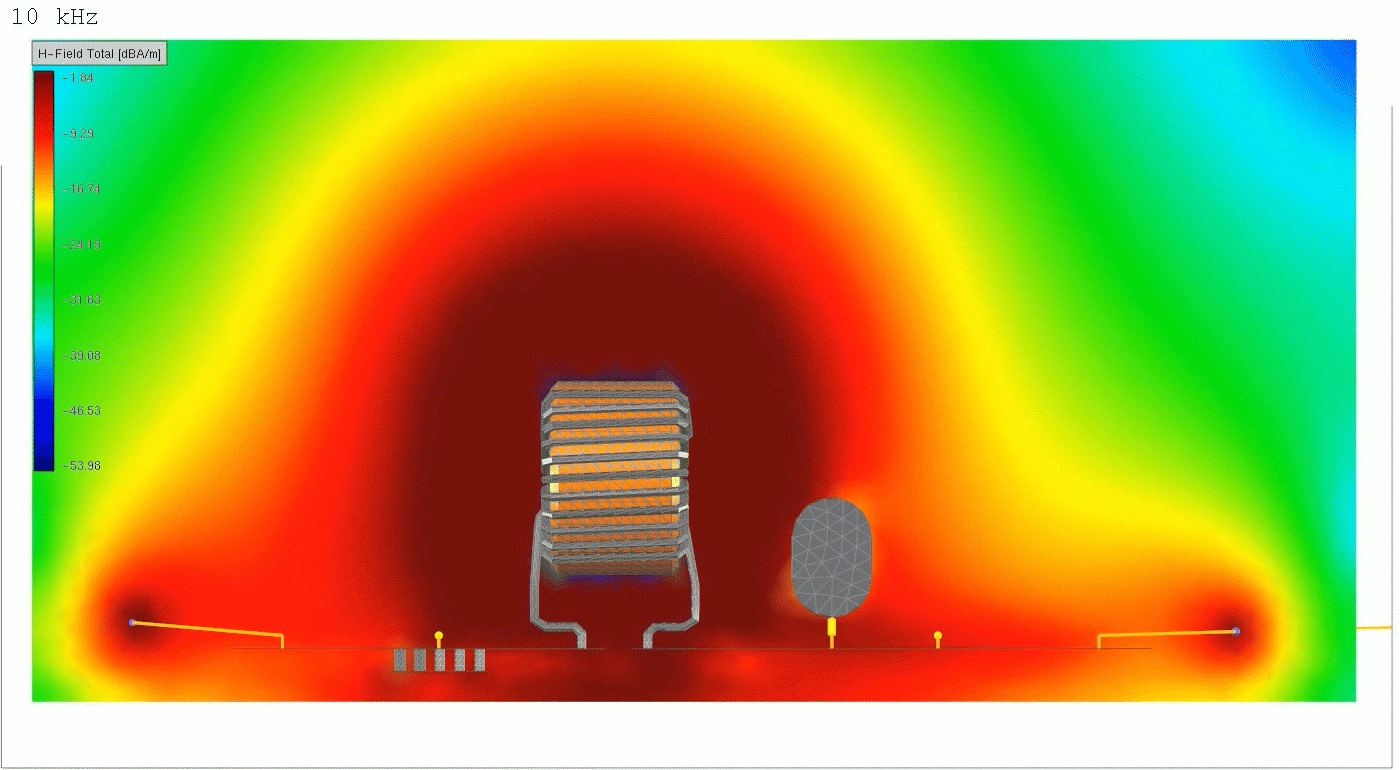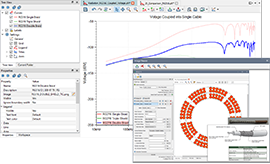 ---
New Graph Digitizing Tool
New Graph Digitizer tool for data extraction from images allows to avoid time-consuming tasks and reduce the efforts of engineers.
Image processing view with automatic detection algorithm
Manual tracing and data sorting features
Accepts multiple image file formats (*.png, *.jpg, *.bmp, *.svg, etc.)
Dragging & dropping images possibility
Provides possibility to create and manage multiple datasets
Magnifier Panel to increase the accuracy of data points
Axes View Panel with linear and logarithmic scale
Export of extracted points to DAT, TXT and CSV file formats
Undo/Redo operations, history list