What's New in Harness Studio v4.5
E42 Data Import Support
New version of Harness Studio provides possibility to fill harness object parameters automatically based on special part master databases from E42 data files. E42 data import is supported for the following harness objects: wires, special wires, connectors, accessories,assemblies, fixings, components, wire protections, cavity terminals, cavity seals and cavity plugs.
All releated functionality is extended by E42 data.
E42 Data Parameters:
E42 Part Company Name
E42 Part Creation Date
E42 Part Version
E42 Primary Part Type
E42 Part Usage
E42 Part Descriptions
E42 Part Custom Properties
E42 Document Number
E42 Document Type
E42 Document Version
E42 Document Creating System
E42 Harness Objects Specifications
E42 Connector Slots Cavities Parameters
E42 Terminal Receptions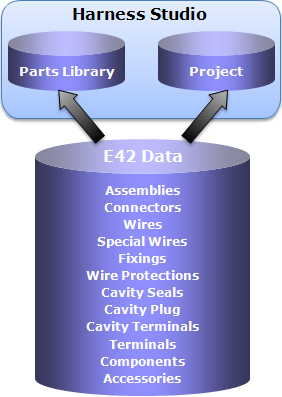 ---
Extension of KBL Data Import
Harness Studio v.4.5 allows to import extended KBL data. The following additional parameters for connectors are supported:
additional_comment_connector
connected_connector
eqt validity
All connectors related functionality is extended with these parameters.

---
New Ruler Tool in 3D Browser
Harness Studio v.4.5 provides new 3D Ruler tool for convenient distance calculationbetween harness objects (nodes, connectors, fixings, terminals and accessories) in 3DBrowser.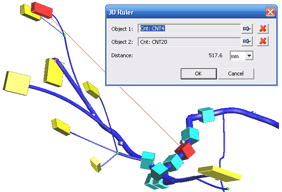 ---
New Detect and Cure Functions in CLIPS Engine
Harness Studio v.4.5 provides new integrated detect and cure functions in CLIPS engine. These functions detect wires, cores, special wires or cables with Rout < Rin and change outside radiuses:
detect_wires_with_incorrect_outside_diameter
detect_and_cure_wires_with_incorrect_outside_diameter
detect_cores_with_incorrect_outside_diameter
detect_and_cure_cores_with_incorrect_outside_diameter
detect_special_wires_with_incorrect_outside_diameter_of_cores
detect_and_cure_special_wires_with_incorrect_outside_diameter_of_cores
detect_cables_with_incorrect_outside_diameter
detect_and_cure_cables_with_incorrect_outside_diameter